Private Aircraft Charter

Helicopter Charter
Booking a major trip is exciting, but it can also be a bit overwhelming. We understand. That's why we have live Travel Experts here to take care of your every need, making your trip stress-free & amazing.
A Corporate Traveler or Tourist , Air Island Tours can provide helicopter, private Fix Wing Aircraft charter flights . We also offer medical evacuation flights for sick and injured patients.
Do you want to travel in a Luxury Plane that is exclusively your own Flight?
Are you sick and tired of the long lines in the Airport Terminals that would just only add to your stress
Fly with us with our Professional Licensed Commercial Pilot and travel to any destination, Where you Want, When you Want.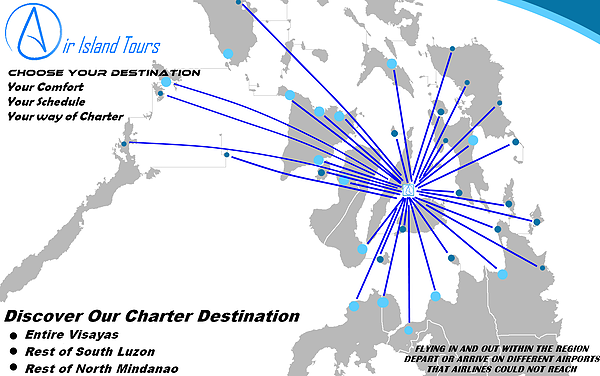 For over 5 years in the Air Charter Industry, Air Island Tours has provided safe , Convenient and Professional Air Charter Flights around the Philippines.
Convention Planners, Business Professionals, Families and Foreign Tourist a like to choose Air Island Tours because with us you can forget about the hassle in Airport Terminals, Delayed Flights, Uncomfortable Seats, or being left in your flight.
Air Island Tours will meet your needs for your Charter Flights. Luxury Choppers and Fix Wing Aircraft can take you anywhere around the Philippines with or with out an Airport that Airlines Cannot reach for any link of time.
With an Impressive List of preferences, we are the trusted Air Charter Service Provider for Major Corporations, Beach Resorts and Foreign Tourist. We have an Excellent Safety Rating and our Equipment is well maintained.
 The Next time you need to travel To or From Your Destination, Let us take the Load off your Shoulders, seat back and relax and we will handle the rest 
 
Call Us Today
+63 922 855 5574 or Email us at This email address is being protected from spambots. You need JavaScript enabled to view it.
"Discover Greatness in a New Perspective"
WE NOW FLY EVERYDAY WITH OUR NEW DESTINATION