Flying from Bohol Tagbilaran City to Cebul, Bantayan, & Siquijor Everyday at an affordable rate
Follow to where Your Heart Calls! Fly the Island of Bohol! "Bohol" a land of history and natural beauty . The capital city "Tagbilaran" also known as the "City of Peace and Friendship!" because of the smiling people around. There's a lot of places to explore in Bohol, *with its rolling chocolate hills , crystal springs and beaches,dive spots , old stone churches , and get to meet and greet with their popular little friend " The Tarsier!" Don't miss out Bohol's crystal beaches especially the Panglao Island! How to get there by avoiding the 2-hour travel through bus and barge? You can fly Bohol for only 30 minutes! But wait! There's more! Enjoy the MANGROVE PLANTATION ! -an insta-worthy picture to post as you fly across it on your way to Bohol. The fun and excitement is waiting for you. what are you waiting for?.
"Greatness in Bohol is about to Discover in a New Perspective"
We are please to announce that in Air Island Tours  Partnership with Royhle Air Way Charter Inc 
Now Flies Everyday from Bohol  to CEBU, BANTAYAN, & SIQUIJOR at an affordable Charter Rate!!!
Visit www.AirIslandTour.com and book your Charter Flight Now
BOHOL - SIQUIJOR or v.v. for only 3,799
BOHOL - CEBU or v.v. for only 3,999
BOHOL - BANTAYAN or v.v. for only 7,999
established RATES @ Per Passenger ONE WAY, MINIMUM OF 2 PASSENGERS , EVERYDAY
Avoid the Long Hour drive, Hassle way to travel, and a much more affordable Charter Flight to Bantayan, Cebu & Siquijor
 Enjoy and fly to the land of History and Natural Beauty, Bohol! "Discover Greatness in A New Perspective!" Share your story with us by using the #hashtags #FlightstoBohol #CharterFlightsInCebu #charterflights #AirIslandTours #RoyhleAIrwayCharter
For more info contact us at +639228555574
"Discover Greatness of Bohol
in a New Perspective"
WE NOW FLY EVERYDAY WITH OUR NEW DESTINATION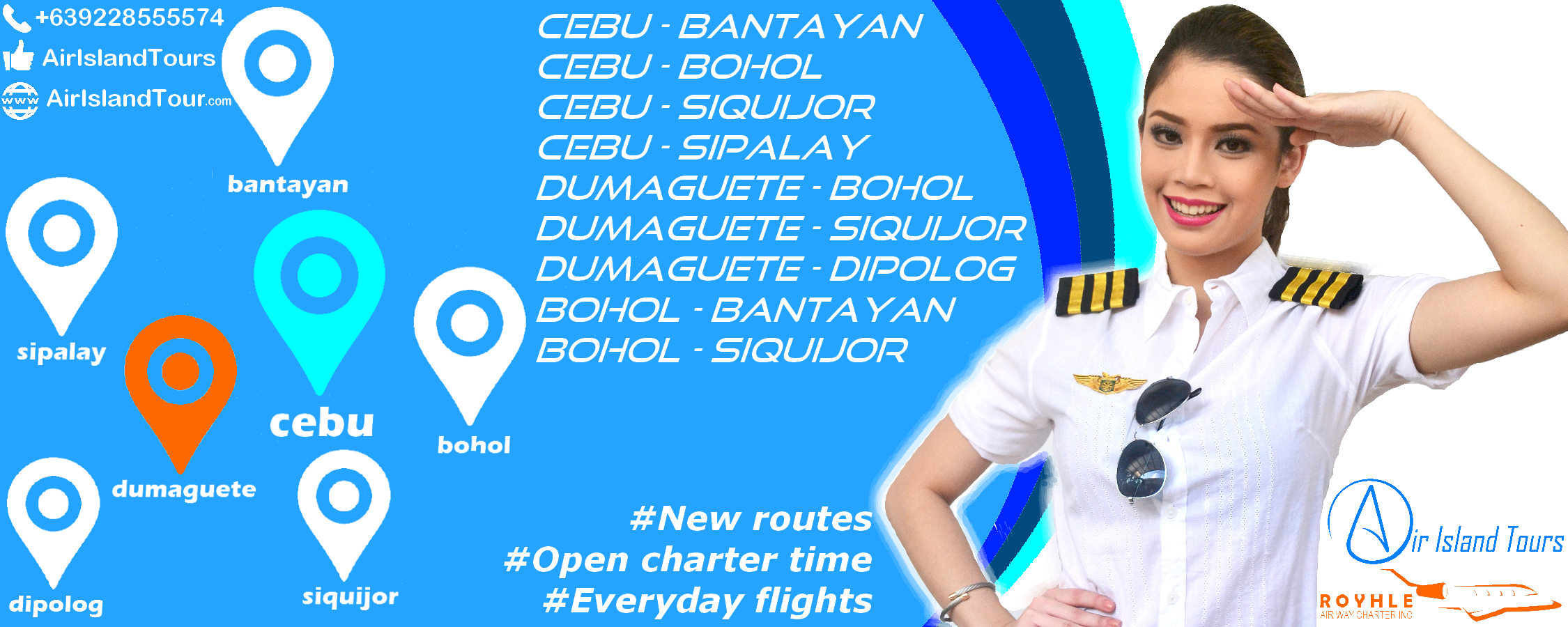 Book your Group Here